NeverKnow in Glasgow/Schottland
Mit diesem Trip ging für uns alle ein Lebenstraum in Erfüllung – nachdem wir im September 2015 den Eurogig Bandcontest, organisiert vom I-Rock e.V. aus Sundern, gewonnen haben, ging es gemeinsam mit unserem Tourmanager Mick für sechs Tage nach Glasgow, wo wir drei Gigs spielen durften.
Richtig los ging es mit dem ersten Gig am 21. April. An der University of the West of Scotland haben wir, sowie weitere Künstler u.a aus Schottland, den Niederlanden und Frankreich, ein Akustik Set unserer Songs präsentiert. Für uns etwas ganz Neues, was bei den Studenten überraschend gut ankam!
Der nächste Höhepunkt der Tour folgte gleich am nächsten Tag: Im Rathaus wurden wir von der Bürgermeisterin von Glasgow willkommen geheißen – eine riesen Ehre für uns! Auch hier haben wir ein Akustik Set geplant, bis uns die traurige Nachricht erreichte, dass Prince am Vortag verstorben war. Kurzerhand änderten wir den Plan, verschanzten uns in unserer Unterkunft und präsentierten zu Ehren des grandiosen Musikers seinen größten Hit – "Purple Rain". Nach der Musik gab es ein gutes Buffet und wirklich sehr guten Scotch, von dem wir uns einige genehmigten ;).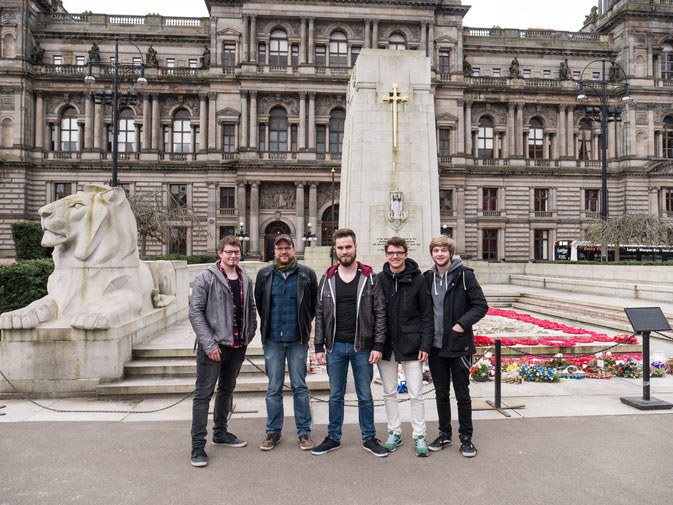 Am Sonntag, 24. April 2016 folgte dann das größte Highlight im "Ivory Blacks", wo u.a. schon Robbie Williams seine Geburtstage feierte – dieser Gig geht uns unter die Haut! In einer solchen Musikstadt wie Glasgow unsere Musik zu spielen, die wir teilweise vor fünf Jahren in unserem kleinen Keller geschrieben haben… das ist immernoch unfassbar.
HIER gibts übrigens ein Video von unserer Show dort!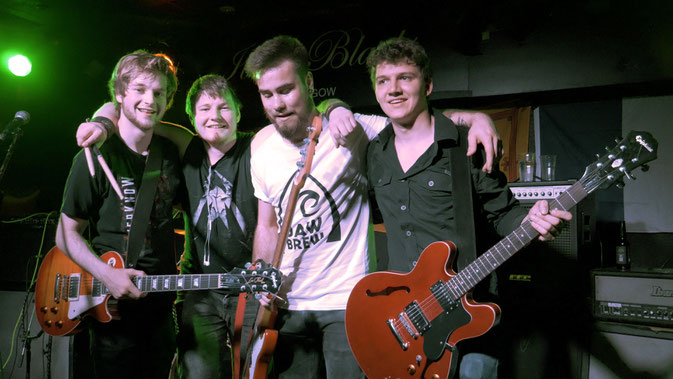 Danke Glasgow für dieses unvergessliche erste Auslandserlebnis als Band. Es ist der wahrscheinlich größte Meilenstein unserer Bandgeschichte.
Wir kommen gerne wieder!