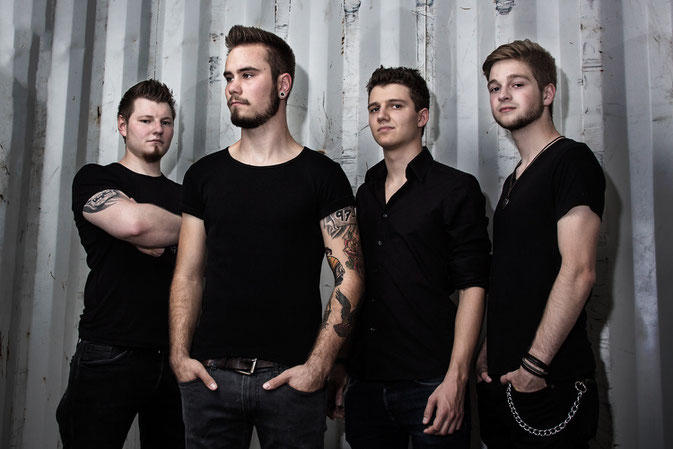 Neues Mitglied/ Making of (Part 2)!
das Einzige was Bestand hat ist der Wandel...
Und unter dieser Prämisse geht es momentan auch bei NeverKnow zu. In unserem Fall ist es allerdings eher der Fortschritt als nur Wandel!
Ab jetzt könnt Ihr den zweiten Teil unseres "Making of: Made of Glass" ansehen, und euch ein Bild von den Vocal Aufnahmen im Liquid Aether Audio Studio, und von unseren Playback-Künsten machen ;)
Aber auch vom Hier und Jetzt gibt es spannende Sachen zu berichten!
Manchen von Euch wird entweder bei unserem Auftritt auf der Social Media Stage der Gamescom am 08. August, oder bei unserem letzten Gig in unserem heimlichen Wohnzimmer, dem MTC-Club am 29.August, aufgefallen sein, dass wir einen neuen Mann an der Gitarre haben.
Er trägt den wunderschönen Namen René Billotin und probt seit knapp einem Monat mit uns. Nun ist er offiziell  neues Mitglied von NeverKnow!
Außerdem wurden wir gerade von der Metal-Muse geküsst und arbeiten fleißig an neuen Songs – macht Euch also auf was gefasst, es kommt neues auf Euch zu.
Letzt Woche waren wir mit Florian Bluhm unterwegs und haben uns neue Bandfotos knipsen lassen, welche Ihr nun hier bestaunen könnt.

Und zu guter letzt: Wer NeverKnow noch einmal live eine Hütte abreißen sehen will, braucht nicht mehr lange zu warten! Am 19.September werden wir im Sauerland beim Eurogig Bandcontest spielen, bei dem wir mit genügend Unterstützung von Euch und einer guten Jury Wertung Konzerte in Glasgow (Schottland) oder Marseille (Frankreich) gewinnen können! - Wir hoffen auf Eure Unterstützung!
Außerdem werden wir dieses Jahr, entgegen unserer eigenen Aussage letztes Jahr, wieder bei dem Benefiz-Konzert "Mega Mali Madness" in Zündorf spielen!
Die restlichen Konzert Termine findet Ihr wie immer hier und auf unserer Facebook Seite.
Wir sehen und hören voneinander!
---
 New member/ Making of (Part 2)!
The only constant is the change...
And this is also the premiss to describe NeverKnow´s current situation. In our special case progress would be the better term!
From now you can watch the second part of our "Making of: Made Of Glass" and have a closer look on our vocals sessions in the Liquid Aether Audio Studio, and our playback-talent ;).
But let´s talk about the things happening right now.
As some of you might have noticed, either on our Gig at the Social Media Stage at Gamescom Festival on August 8th, or on our Gig in our "almost-livingroom" the MTC-Club on August 29th , we have a new man on the guitar!
He bears the name René Billotin and rehearses with us for about a month.
He is officially the new member of NeverKnow!
Lately we´ve been blessed by the metal-muse and are currently writing and working on new songs – so be ready for something new is coming!
Last week we´ve had a photoshoot with Florian Bluhm to get some new band photos you now can admire here!
Last but not least: For those who missed our last shows, and for those who just want to experience NeverKnow tearing down a venue again, we will – of course - be playing live again!
On September 19th we will be playing the Eurogig Band Contest. With enough of your support and a good judgement by the jury we have the opportunity to win concerts in Glasgow (Scotland) or Marseille (France)! So come support us there !
Additionally we will again be playing the "Mega Mali Madness" benefit concert in Cologne- Porz this year.
As usual you can find further upcoming show dates here, or on our facebook page.
We´ll see and hear each other!
---