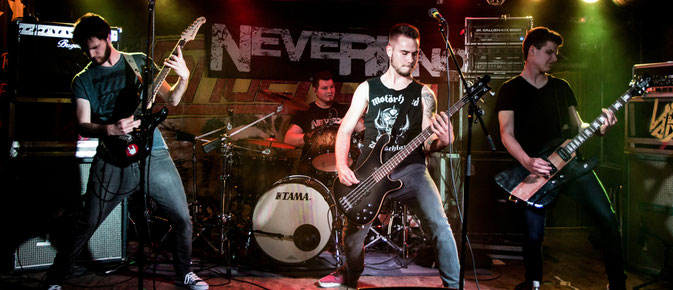 Fünf Jahre schon! - Neues Musikvideo!
Seit fünf Jahren macht NeverKnow jetzt schon Lärm!
In fünf Jahren hat sich, außer den Mob-Frisuren einiger Spezialisten, auch sonst einiges bei uns verändert. Trotzdem schauen wir gerne auf die letzten Jahre zurück. Auf diesem Weg wollen wir uns vor allem auch bei Euch bedanken – die uns jetzt schon eine ganze Zeit begleiten und bei kleinen und großen Gigs dabei waren, aber auch bei denen die uns erst in den letzten Monaten entdeckt haben.
Um die letzten Jahre angemessen zu verabschieden, haben wir für euch ein Musikvideo zu unserem ersten gemeinsam geschriebenen Song Left Alone gemacht. Es enthält Live Szenen der jahre 2011 bis 2013 - Bestimmt erkennen sich einige von euch auf den Aufnahmen wieder!
Den Song könnt ihr euch übrigens kostenlos herunterladen! Meldet euch dazu einfach bei unserem Newsletter an. Keine Sorge, von uns bekommt ihr keinen Spam, nur gute Musik! :)
Außer dem Video wird in der nächsten Zeit noch etwas viel größeres auf Euch zu kommen, also haltet die Augen und besonders die Ohren offen!
---
 Five years! - New music video!
NeverKnow is going loud for five years now!
A lot has changed in the last years, anyway we love looking back to those years.
On this way we would like to thank you all – those who have supported us for such a long time, but also those who have discovered our music only weeks or month ago.
To properly bid farewell to the last five years, we compiled a musicvideo for our first own song Left Alone, containing live scenes from 2011 to 2013.
You can download the song for free! Simply sign up for our newsletter and recreive updates and awesome music! :)
Besides the video there is something much bigger coming from NeverKnow within the next time! So keep your eyes and ears opened!